Vistula River, Polish Wisła, largest river of Poland and of the drainage basin of the Baltic Sea. With a length of 651 miles (1,047 kilometres) and a drainage basin of some 75,100 square miles (194,500 square kilometres), it is a waterway of great importance to the nations of eastern Europe; more than 85 percent of the river's drainage basin, however, lies in Polish territory.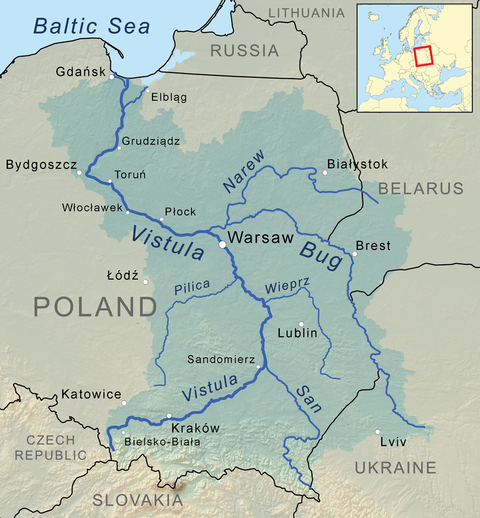 The Vistula is connected with the Oder drainage area by the Bydgoszcz Canal. Eastward the Narew and Bug rivers and the Dnieper–Bug Canal link it with the vast inland waterway systems of Belarus, Ukraine, and Russia.
The Vistula river crosses the Poland's capital city, Warsaw. A number of large towns and industrial centres lie on the banks of the Vistula. These include Kraków, which was Poland's capital from the 11th century to the close of the 16th, Nowa Huta, Sandomierz, Płock, Toruń, Malbork, and Gdańsk.